The SEO environment is a vibrant and growing one. Some SEO fundamentals such as; optimising pages for the best keywords and the technical set-up, will never change. But as the online competition grows, updating and planning your SEO Strategy is important.  Google, as well as other huge platforms, are desperately trying to be the end destination of their users. So here are the top 5 major SEO trends we have put together that you should be implementing in your 2020 SEO Strategy to remain successful in the adapting Google structure.
SEO Trend #1: Local SEO is changing
In early November 2019, Google confirmed an update affecting local search results. The change is in relation to Google "making use of neural matching as part of the process of generating local search results,". Therefore, to kick start our SEO trends, we will discuss local SEO.
The vast amount of zero-click searches are displayed on the SERP itself and are often placed in local packs. These local packs have been cut down from 7 to only 3. For mobile devices, a single local pack might take up an entire SERP shown to a user. So it's vital your website is set-up for the local pack.
Google has shifted its focus from giving the large businesses all the attention to now caring more about satisfying users to become happy 'searchers' (customers). Always remember that Google wants the browser to keep using their platform when seeking information, so they can continue charging massive money for Google Ads etc. They continually weed out bad website and poor search results to improve browser experience.
Research that has been previously done shows that local business are often discovered through online research, meaning that customers are looking and have local intent. It is said that once a local search is conducted on a mobile phone, there is a 50% chance that user will visit the store on that day. Therefore, if you rank as a local business, Google will reward you with a competitive advantage.
What you should do..
To optimize this SEO trend creating a Google My Business (GMB) page for your company is the first step which involves including keywords such as "near me, address, phone number" etc. Information on GMB and other social media profiles must be correct to ensure you optimize for local ranking. Two mains ways to rank locally are
Local pack ranking – includes the top three searches on Google.
Localised organic ranking – which is a means of traditional SEO but focuses on targeting localised keywords and backlinks. e.g. 'Plumber Cork'
Here are some steps you can take to improve your local ranking.
Local SEO audit: Begin by ensuring all the basics are covered.
Make sure your NAP (name address and phone number) is consistent.
Implementing Schema is important for search engines to read and process your website.
Focusing on mobile is key. Studies show that 88% of users search locally on their mobile with actionable intent.
Building local backlinks is valuable. (Backlinks – business listings e.g Chamber of Commerce)
SEO Trend #2: Zero Click Searches
Zero click searches is exactly what the name suggests: a google search that appears and requires zero further clicks to find more information. Google has designed SERP features that satisfy a user's query through a snippet, so now more than 50% of a Google search will end without a click. Here is an example of what a zero-click search may look like:
Zero-click searches vary depending on what the user is looking for. Some examples include:
Database-style searches – where one is searching for dates, times, currency conversions, ages and names of a person or product.
Dictionary and encyclopaedia style searches – queries that centre around a definition or "what is" question.
Map direction-style searches – queries related to directions or a location for example, "restaurants near me".
What you should do..
For anyone that relies on organic search to be discover-able, zero-click searches may not be your best friend because not only is it now harder to be discovered, it is now harder to get clicked on as all the queries are answered in a featured snippet form. So you might be wondering "How can I drive website traffic when Google is doing the opposite?". The answer is to focus on keyword research. To be featured in the SERP's you must identify what keywords will lead to clicks for your website. Because of SERP's updated features users are no longer clicking into queries such as "how to x". You must be aware of the keywords that are becoming less effective and begin researching keywords that will work for your business.
The focus must shift to click metrics when researching and using keywords. Analysing and understanding the CPS (clicks per search) metric to filter by searches with clicks and those without clicks should become one of the core metrics implemented in keyword research. So before you can optimise your website, you need to know which are the right keywords to rank for. It's not only about generating any traffic but generating the right kind of traffic that will convert into leads or sales. Begin by checking your sites rank position locally and globally in Google SERP'S or other search engines, your competitors keyword tactics and see how well they are doing in organic search results. We do a Free Website Audit that will give you most of this information. Get Free Audit. 

SEO Trend #3: Voice Search 
Voice searching has become the second favoured choice for mobile searching with data from 2019 showing that 59% of voice searches are mobile. Within these voice search queries, users often phrase a query in the same form as they speak, searching for accurate and quick answers. Such search engine features are changing the way keywords are seen and chosen.
What you should do..
Here are some steps you can take to optimize this SEO trend.
Firstly have a digital presence! A voice search does not know all your information, instead it extracts and relies on your website to provide the answers to queries. Voice searches answers will also come from sources such as GMB, Apple Maps etc. Therefore, you should be citing your business and information on these trusted sources.
Content that supports Voice Searches: Providing content and text that consumers are searching for is a simple way to optimise voice search. You must know what your audience wants to use this method. Implementing short subheadings and various "hints" will alert Google to use as a snippet in search result.
Optimise FAQ on every page: Answer potential questions a user may have. As we know voice search queries are more conversational, therefore your FAQ should copy this.
SEO Trend #4: Optimise for Rich and Featured snippets
Rich snippets
Such snippets are page descriptions that can be seen on various search engine results. They can be referred to as structured data mark-up that can be added to your site to draw attention to the actual site and information. Adding rich snippets to the information on your website, search engines will communicate that to searches.  So why look in to rich snippets?
They allow search engines to deliver specific, valuable and relevant results.
Searchers can see relevant information such as reviews more effectively.
Providing important information leads to a better understanding of what the searcher will see when clicking on your website. Therefore, an opportunity to increase your click-through rates from SERP with a reduction on bounce rates and increase of conversion rates.
So in essence they make the search result more interesting. see below
Featured snippets
Featured snippets are ones that use up the most space on a search page. Google will answer a question with this snippet consisting of relevant information. Such snippets make is easier for users to find an immediate answer.
What you should do..
To featured in a snippet, structuring your data in a way that helps search engines understand what the user is looking for is important. Knauff stated that " structuring the data in a way that helps search engines to better understand not only what is on a page, but also how each element relates to other elements on the page, and how that page relates to other pages within the website," "Smart SEOs will start leveraging their structured data to enhance their analytics so that they can gauge what part of their content is driving results and use this data to influence content strategy, marketing strategy, product features and more, across their companies," said Martha van Berkel CEO of Schema App. To analyse your website structure, conducting a website audit is key. For any SEO or Website project we incorporate the best structure data practises. See an example of a feature snippet for our client in the above image. An eye catching 'search result' and in number 1 position on Google for the term 'IP Phone System'.
SEO Trend #5: Machines
In 2019, Google launched their new BERT algorithm, the first significant change since their search algorithm in 2014. The aim of this new algorithm is to improve users' experience with search and help avoid keyword packed pages. The algorithm has been adjusted to better understand the process of natural language. Here is an example that might help you understand the BERT algorithm.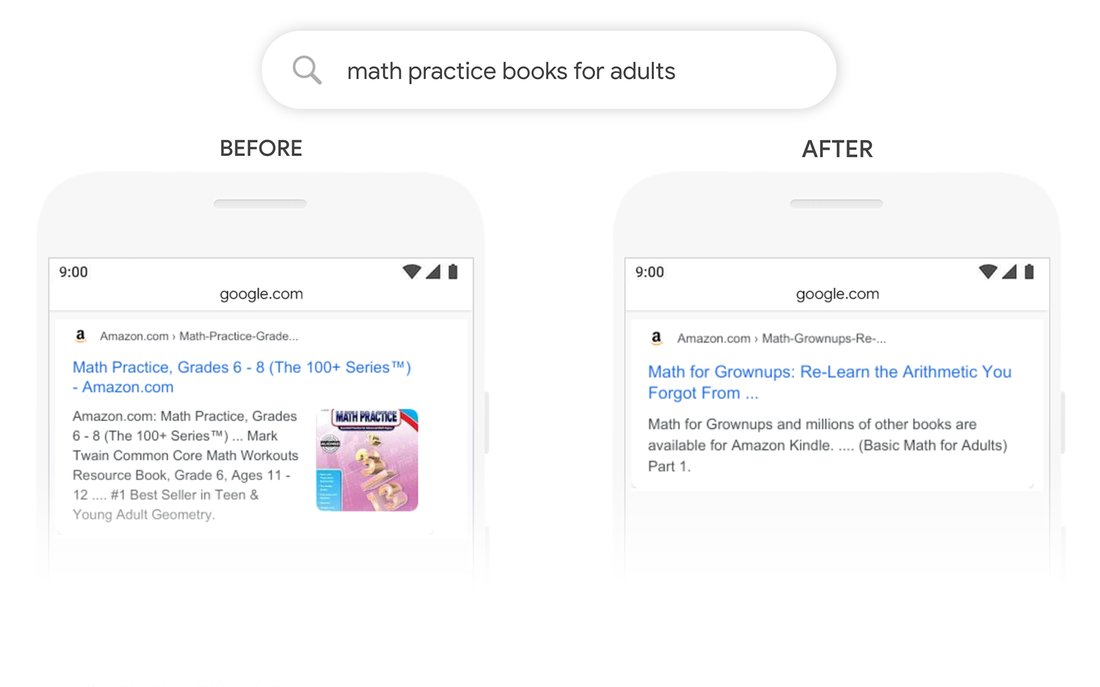 BERT impacts one in ten queries, therefore applying this model will increase the chances of ranking on Google's first page as a snippet.
What you should do..
BERT is used to better understand the distinctions and context of words in searches, so creating specific content around a topic is important. This doesn't mean writing page long descriptions about a number of different things but instead answering a potential questions as quick as possible and providing valuable information.  To succeed in ranking for informational keywords, specific keywords that answer questions is the way. The text content on your website is something that can be influenced to work in your favour, so for this trend the quality of your web design and copywriting is key. Build content around the questions people are asking. Use short paragraphs per question that is being asked and use 'Google Highlighter' to mark the content for Google to pick up.  Where to find the questions? Easy – You'll see them, about halfway down, on the search engine results page.
SEO can sometimes seem like a complicated subject but it's vital to keep aware of the available methods to stay ahead of the competition. Ask your SEO Agency about implementing some of the trickier technical tips.
If you are interested in chatting about improving websites SEO performance or have questions about implementing the latest SEO trends into your businesses digital marketing strategy, please contact us today by clicking here!